Britframe
We are committed to supplying the market a bespoke refurbishment or new build system package that incorporates a lightweight steel framing system, which is primarily designed to create a roof pitch.
Features & Benefits
Proudly manufactured in the UK
Eliminates the need for hot rolled steel or a concrete primary frame
Wide range of rolled sections and fabricated components for roof, wall and floor frames
Protects the existing flat roof with a durable, cost-effective roof covering
Enhances the thermal performance of the existing building, reducing heating costs and saving energy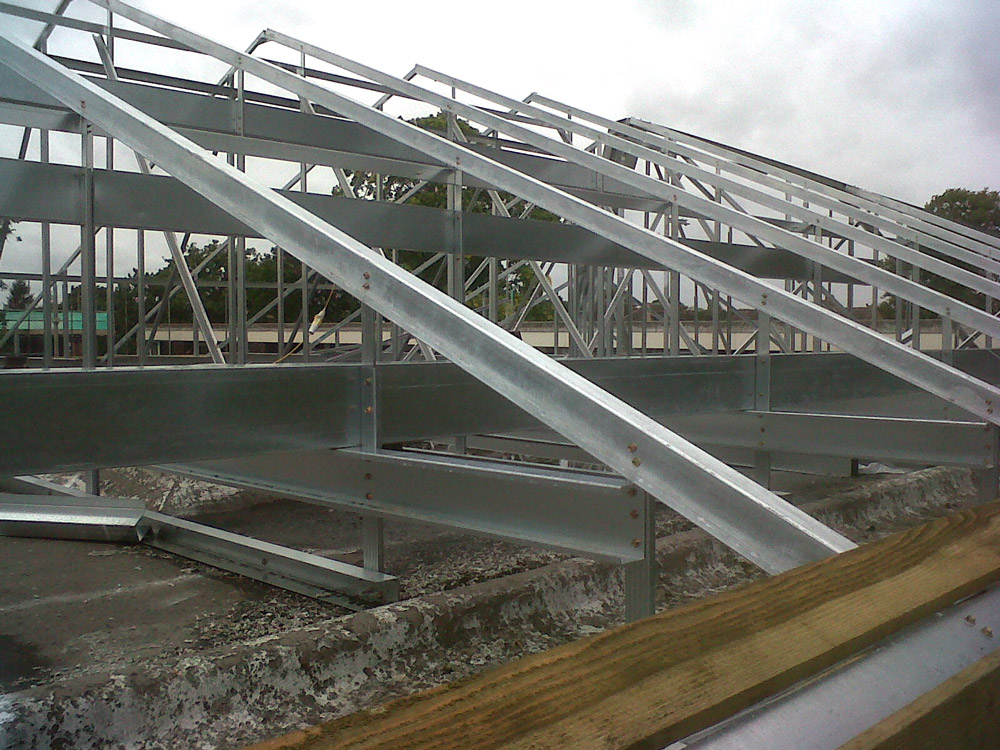 Britframe Overview
The Britframe system is a structural steel frame that converts flat roofs to pitched roofs. Our Britframe system has been recommended and specified on a fundamental number of projects including schools, MOD, social housing and many more.
Britmet is committed to supplying the marketplace with a bespoke refurbishment/new build system package, incorporating a lightweight steel framing system, primarily designed to create a roof pitch. The Britframe system offers a permanent solution to failed flat roofs and can be used to construct a variety of pitched or curved roof structures. They can accommodate both the simplest gable end design to the most complicated ridges, hips, valleys, soffit fascia's and overhang requirements.
A range of systems are available which can be individually designed and tailored to suit the specific structural and design requirements of the existing roof, offering a permanent solution to failed flat roofs. The lightweight structural metal frame system has an excellent strength to weight ratio, as Britframe over-roof conversion systems are constructed using a bespoke lightweight steel framing system, primarily designed to create a roof pitch but can support both modern and traditional over-cladding systems to achieve the required aesthetics.
History of Origin
It is widely known that flat roofs are an on-going issue within the UK, despite countless advances in technology. When considering existing problems associated with flat roofing and the potential degradation of the roof when open and exposed to the adverse UK elements, it is paramount to resolve these issues by removing likely causes. This most commonly means preventing water from damaging the roof further by getting the water off the roof quickly, thus avoiding the horror stories we have witnessed and heard like over 60 tonnes of water pooling on flat roofs and roofs collapsing under this kind of pressure, which is most effectively avoided through the introduction of a low-cost roof conversion system.
Britframe offers the most cost-effective system in the UK marketplace, backed by decades of knowledge and experience, offering clients a range of solutions to overcome the most troublesome issues.
Originally developed in the 1980's, lightweight roof conversion systems have been installed on many public and private sector projects that provide an ideal permanent refurbishment solution for failed flat roofs. The use of a lightweight steel frame system coupled with a decorative and functional roof covering offers a building owner a trouble-free lifetime guarantee. It also offers the opportunity to significantly enhance the functionality, aesthetics and operational costs of the building.
By constructing a lightweight, steel 'A' (shape) frame over the existing roof deck, a new roof pitch is created to facilitate rainwater run-off. By re-locating drainage to the outside. Of the building, water is permanently removed from the roof, eliminating any further potential problems. Britframe provides a range of systems, which can be designed to suit specific requirements for either an existing or new build.
Features and Benefits
By providing a cost effective, lightweight solution to create a pitched or curves roof option that not only enhances the overall aesthetic of a tired and troublesome flat roof, but also provides a plethora of features and benefits:
Protection of the existing flat roof by complementing the Britframe solution with a durable and cost-effective new roof covering.
Elimination of continual costs of repair and/or replacement of the existing flat roof as well as all of the associated disruption this can cause to occupants and building users/owners.
Opportunity to greatly enhance the thermal performance of the existing. Building, reducing heating costs and saving energy. Roofs that were installed before 1990 usually have little to no effective insulation.
Extended building life and excellent pack-back on the full life-cycle costing (when compared to the costs of repair and refurbishment of existing flat roofs.)
Minimum disruption to occupants and elimination of continued leaks associated with existing flat roofs.
Full audited design and installation service supported with a full independent insurance-backed warranty on both products and installation.
Enhanced appearance, making properties more attractive for visitors/users/tenants
Britframe Product Range
Britframe System Types
Britframe offer a comprehensive range of products that will provide a permanent solution to the most technically challenging of troublesome flat roofs. Our core products are provided in three main systems each with its own unique properties and ability to provide a solution for all existing roof structures and permissible loading parameters.
Our design team will make an initial visit to site to establish the key parameters of the existing structure. From this assessment our designers and will make recommendations on the most suitable Britframe solution to ensure a cost effective, functional and aesthetically pleasing solution is proposed. All complemented by one of the comprehensive range of Britmet outer sheets and full suite of flashings and rain water products. Providing a one stop fully designed system all supported with our 40-year guarantee.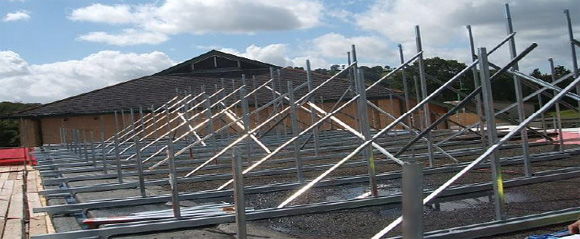 Britframe "Propped Frame System"
The propped rafter system is a factory manufactured system that can be supplied to site in either a kit of parts, or semi- assembled. Propped rafter systems are designed to transfer new loads via the existing deck directly to existing primary support structures; typically fixed at centres from 1200mm to 3000mm, and provide a maximum roof pitch of up to 45°
Our curved propped rafter system is a variation of the propped rafter system, and provides a support system for curved roof scapes. This system is ideal for creating a curved radius utilising a new standing seam type roof sheet. The propped rafter system is supported when delivered to site by a full set of site assembly drawings and full technical assistance to ensure that contractors are fully conversant with our designs and the method of installation. This Britframe system offers an excellent balance of flexibility, cost effectiveness and speed of assembly.
Britframe "Full Spanning Truss System"
Britframe full spanning trusses are typically fully factory assembled trusses. Precision manufactured in our state of the art 40000sq ft. facility in the West Midlands. Spanning trusses can be manufactured to suit the majority of roofscapes with the most demanding of design parameters. Our designs are intended to make trusses as practical as possible for ease of handling during transportation, off loading and installing. Spanning truss systems offer the quickest means of assembly on site but rely on the building parameters being comprehensively surveyed by our design team at an early stage. This will allow us to provide the most suitable design for the application and establish key factors in the anchorage of trusses back to the existing structure.
Britframe spanning trusses are available in two types of truss systems:
Point load Truss - Fully assembled truss requiring certain point load areas on existing deck for support.
Free Spanning Truss- Clear spanning wall to wall (max 12m)
Early involvement from our design team through our "Project Assist" scheme will allow the most practical application to be decided and offer comprehensive experience from the outset to ensure the maximum benefit for all stakeholders.
Britframe "Post and Rail System"
The Britframe post and rail systems sometimes referred to as a Liner system, is the simplest form of providing a pitched alternative to a troublesome flat roof. The system is dependant of transferring the load of the new roof structure at regular load points typically on a grid basis with a maximum span of 1.0m x 1.0m. As with the propped rafter systems the post and rail system is fixed directly into the exiting roof deck. This system is both simple to install, and a cost effective over roofing solution for the tightest of project budget requirements.
Generally sat onto a continuous angle base spreader positioned either parallel to or at 90 degrees to the new roof purlins, dependent upon existing roof construction. The Britframe Post and Rail system can accommodate a maximum new roof height of 3.5m. With new roof pitch up to a maximum roof of generally 15 degrees. Specific projects may vary. Roof purlins to be positioned at centres, down slope, to suit spanning capabilities of the new roof covering.
Britframe Costings
Lifecycle Costings
Costs associated with flat roofing are historically considered to be less costly than a more permanent pitched roof option. Over recent years this perceived differential has become much less; partly through the increased cost of the required specification of a flat roof and partly through the innovative and cost effective methods of creating a pitched roof.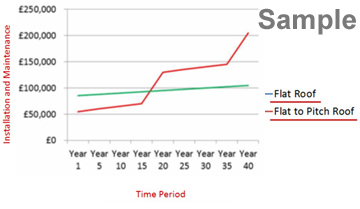 Add to this the increased on going cost of the repair and maintenance of a flat roof continually open to the elements and increased risk of failure. It becomes apparent as shown by the table of the life cycle costs above, that the best option from the outset and through the life of the building will always be a pitched roof conversion.
Britframe Systems can offer guidance and advice on achieving the most cost effective solution with the support of a team of dedicated technical staff. This support is offered from advice at feasibility stage through project management to satisfactory completion and handover.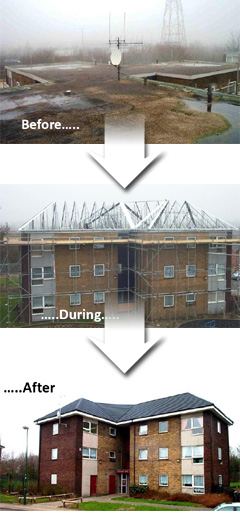 Britframe Over-roofing Options
When considering a refurbishment option there are a number of choices each will have benefits but only one will provide a permanent solution to the inherent issues associated with flat roofs.
Strip and renew
This is the most expensive option and is recognition that the existing flat roof has failed over time and replacing with a similar roof is recreating the issues and all the associated on going costs. With the new regulatory changes the specification for the new roof will be far more onerous and increase costs considerably. In addition this option creates the most disruption to the building and its occupants.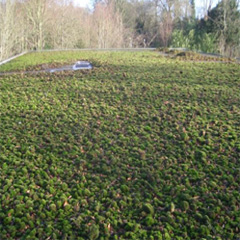 Patching to existing.
Patching is the least expensive option in the immediate short term. However it is also the least effective solution as it only masks an inherent problem for a short period. Leaks on the flat roof will already have allowed moisture and water ingress into the roof build up. This ingress of water will continue to degrade the roof build up and still enter the building creating further costs and disruption.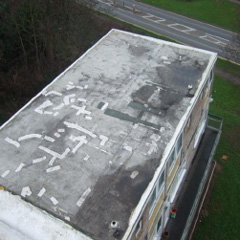 Lightweight Over Roof Conversion System.
The permanent refurbishment solution is to remove the root cause i.e. water laying on a flat roof or continually attacking the flat roof covering. This is achieved by providing a pitched roof alternative in lightweight steel. The exiting roof can remain in place and the lightweight loads of a new roof transferred through the existing support structure. Complimented by a new more durable roof covering offering maintenance free long term solution that is cost effective, permanent and aesthetically pleasing.