Steel Framing Systems (RTU's)
Design to Delivery
As the only British manufacturer of lightweight tile effect roofing systems, Britmet Lightweight Roofing are best placed to support the recent growth of roof top units. We support both social and private landlords in a complete conception to completion. We offer a free design, planning and structural assessment, and work along side our clients to deliver the desired finished project, and beyond! We have been supporting our strategic partners in delivering Rooftop units for over 10 years, and we are happy to assist should it be a full estate or even a single unit.
All of our systems come with a 40 year manufacturers guarantee and a 12-20 year independent insurance backed guarantee, to give our clients complete peace of mind. With a lack of supply of new properties across London, there is no wonder that construction continues to move in one direction; up.
This was recognised in the 2017 Housing White Paper which seeks to address the scope for higher- density housing in urban locations particularly "where buildings can be extended upwards by using the 'airspace' above them". It is reported that in the coming months, extending to a block of flats by two floors will be under PD, so all that will be required is an LDC (lawful development certificate).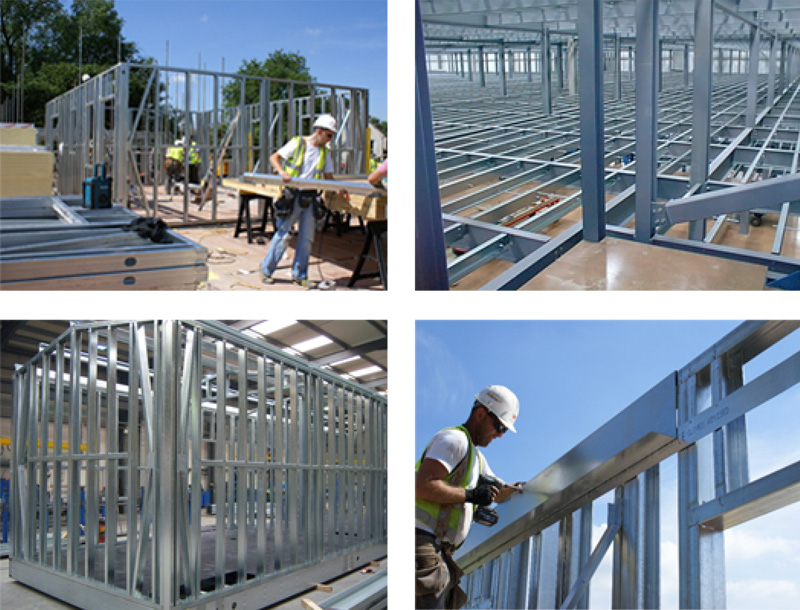 Roof Top Developments
Full design and supply service
Supplied as site assembly or fully fabricated panels
On site support and inspections to support insurance backed warranty
All systems supported by structural calculations and assembly drawings
Comprehensive manufacturing facility with a large capacity for the most complex projects.
Vertex software to maximise productivity and accuracy
Flush finish panels Precision rolling and punching to allow sections to be pre punched / slotte
Britsky Technical Support
Having been involved in Roof Top Units and Flat to pitch conversations for so many years we have honed the art of design, and each individual buildings needs are treated with a bespoke approach.
With our structural engineers and design service all projects with the attention they deserve. And very quickly we can tell our clients if a project is feasible and deliverable.
Important to remember
We will support our clients through the whole process
Full design service available structural calculations for the framework on every project, inclusive of wind & load calculations.
Site surveys and base fixing pull out tests supplied as standard prior to design.
Guidance / assistance with the existing structure also available upon request.
AutoCAD drawings tailored to suit individual project. Working drawings incorporate framework & top sheet.
Planning drawings/ calculations and full cladding drawing service is also available upon request.
Full NBS Specification can be provided tailored to each project, complying with all relevant British Standards. see as follows.
Britsky Key Facts and Benefits
Swaging of the vertical studs allows for a flush finish wall profile which facilitates fixing of boarding or linings.
The bottom corners of the studs are trimmed prior to folding the section to allow the stud to sit directly onto the face of the bottom track thus giving direct transfer of vertical load rather than through the fixings
Window and door openings are easily accommodated
Bracing formed from the stud section can be incorporated within the wall structure, which is strong both in tension and compression therefore eliminating the need for external cross bracing.
Britframe Systems have the ability and capacity to supply systems in either stick form or fully assembled panels
The steel gauges are core steel thickness plus the standard (Z275) zinc coating thickness of 0.04mm.
Sections are generally manufactured from the grade S450 steel with a minimum yield strength of 450N/mm² (2mm from lesser yield)
Britframe Systems Framing offers increased stability and durability
Britsky Installation Support
Framework supplied to site in kit form or partially / fully fabricated, colour coded for ease of installation, along with full working drawings.
Regular site visits / audits carried out typically weekly subject to size & complexity of project. Audits supported by full audit reports on both workmanship & materials.
In house training school for management & site operatives available on request. On site training also available at the start of a new project.
Dedicated project team for all new projects.
Guidance and technical support on integrated products e.g. Cladding, solar panels etc
Building Standards & Certifications
ISO 9001 & ISO 14001
BS 5950-5: 1998
Structural use of steelwork in building - Code of practice for design of cold formed thin gauge sections.
BS 6399 – Loadings for Buildings
Part 2 1997 – Code of Practice for wind loads.
Part 3 1998 – Code of Practice for dead & imposed loads.
Part 5 1998 – Code of Practice for cold-formed sections.
BS 5427: Part 1
1996 Code of Practice for the use of profiled sheets for roof & wall cladding on buildings.
EN10142: 1991
Specification for continuous hot-dip zinc-coated low carbon sheet steel & strip for cold-forming up to 3mm thickness.
EN 10147: 1992
Specification for continuous hot-dip zinc-coated structural sheet steel & strip.
BS 5250: 2002
Code of Practice for control of condensation in buildings.
Insurance Backed Warranty
Up to 20 year period of insurance.
Cover is provided for defective workmanship, materials and design. A Rated UK insurers with proven track record, maximum of 12 years.
Recommended by the country's leading independent specialist warranty broker.
The policy is extended to include professional fees. Insures the whole roofing / cladding system.
Regular site visits / audits carried out typically weekly subject to size & complexity of project. Audits supported by full audit reports on both workmanship & materials.
Failure to comply with Part L of the Building Regulations.