Tactray 90
The Tactray 90 structural liner is available in 4 gauges 0.75mm/1mm/1.25mm/1.5mm, allowing for good spanning capabilities, up to 4.8m.
Features & Benefits
Proudly manufactured in the UK
Structural liner support tray
Available in 4 thickness gauges
Promotes warm roof construction
Up to 6m spanning capabilities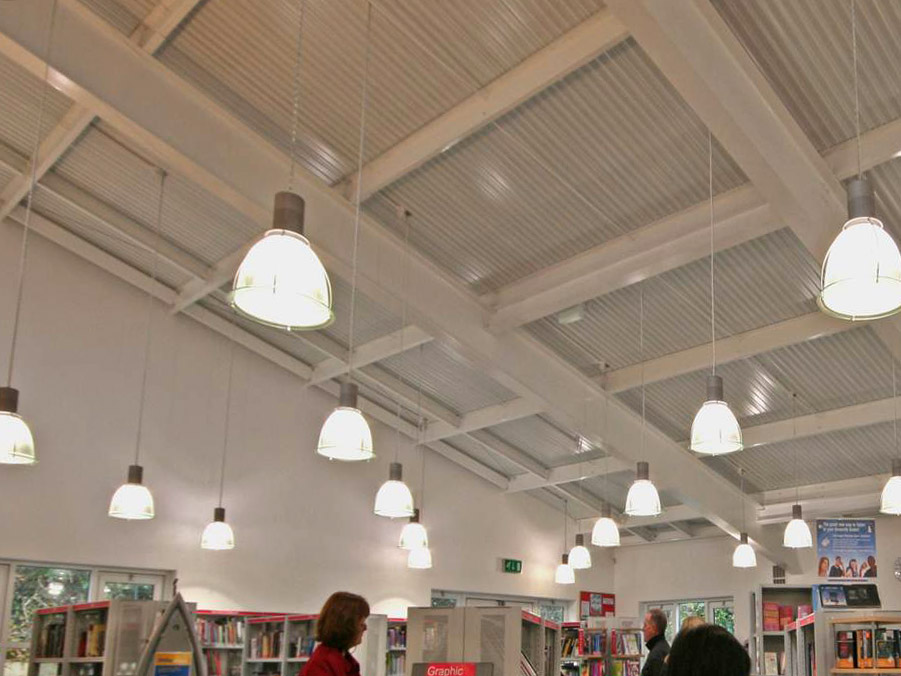 Tactray 90 Overview
Britmet Lightweight Roofing developed the unique Tactray 90 structural liner tray to help specifiers and designers promote warm roof construction – universally known as the most effective way of insulating any building. Tactray 90 can be utilised to reach any insulated u-value available, down to 0.1 u-value or better. Available in 4 thickness gauges (0.75mm / 1mm / 1.25mm / 1.5mm) and incredible spanning capabilities, Tactray 90 has the ability to carry an endless range of roof finishes; from traditional concrete slates and tiles, to lightweight roofing standing seam systems and green roofs.
As the Tactray 90 is a structural metal liner system, it replaces the need for timber rafters in steel framed buildings. Each tray is fixed directly to the steel purlins with Tek screws to form a secure, weatherproof overhead canopy at an early stage in the installation process. As a result, tradesmen can walk beneath the structure before any final roof coverings are introduced.
Due to the inherent structural strength, utilising the Tactray 90 on your project will mean the steel framed building will require fewer supports, allowing for larger purlin spacings and dramatically reducing the weight and cost of the overall structural steelwork. Furthermore, as the Tactray 90 is so easy to install, there is no need for expensive cranes to be onsite for long periods of time. Each pallet covers approximately 60-100sqm per load and can be loaded onto the roof.
For internal aesthetics, Tactray 90 comes in two standard colours, a plain galvanised finish or a white polyester, ideal for ceiling finishes. Special colours are available upon request. Moreover, Tactray 90 is also available in an acoustic option, allowing for acoustic insulation to be laid on the inside of the perforated tray. As a result, higher or lower levels of sound reduction and absorption can be achieved depending on the various grades of acoustic insulation boards that are specified.

White

White Perforated
Galvanised

Galvanised Perforated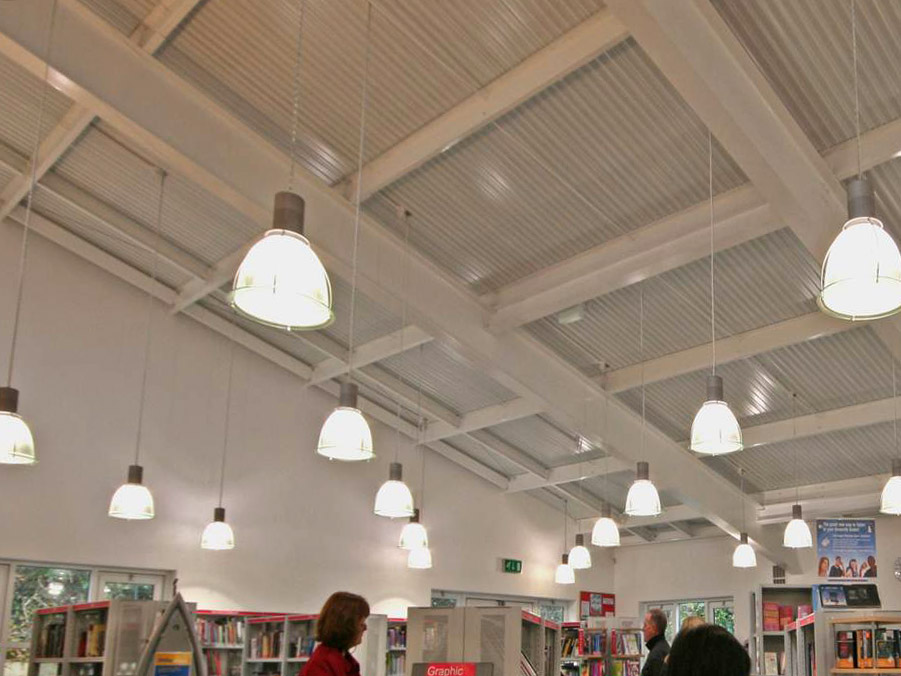 Tactray 90 Technical Spec
The following technical data sheets are available: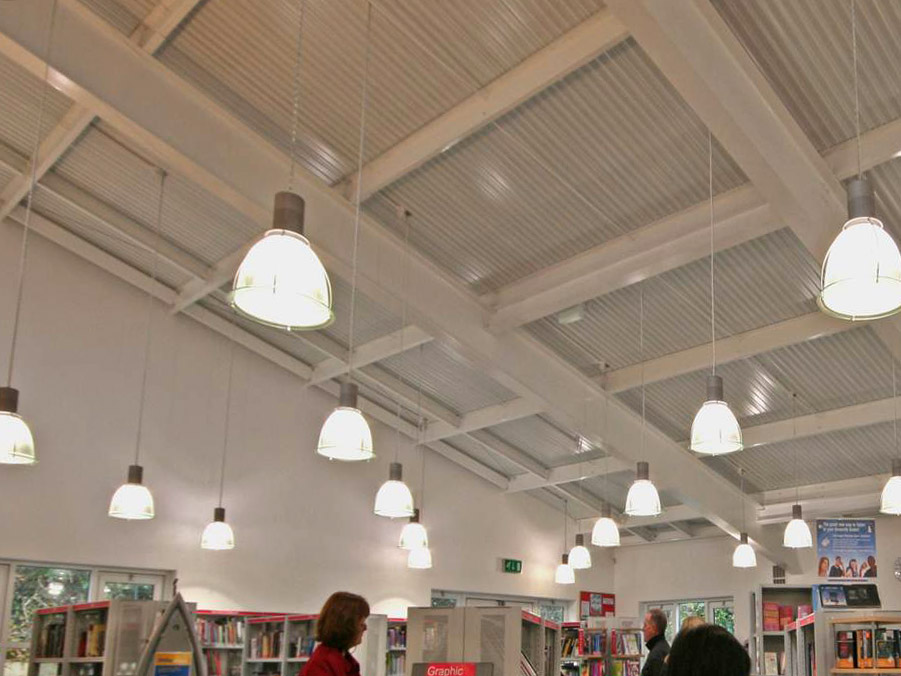 Tactray 90 General Specification
Transport, handling & storage
Product data sheets are available covering relevant Health & Safety information. CDM regulations Tactray 90 should be specified and handled in accordance with the requirements of the Construction Design and Management (CDM) Regulations.
It is advisable to ensure that sufficient room is available for on-site storage (including bulky insulation), and that there is sufficient room for the turning and unloading of vehicles.
If materials are to be left on site for any length of time it is important that the products are stored in their original packaging, under cover and in a dry, well-ventilated position. The packs should be laid on even ground, having a slight incline to ensure rainwater run-off.
When covering materials, ensure that adequate free ventilation has been allowed to prevent condensation. All materials, including insulation, fixings, fillers etc. should be kept under appropriate conditions away from vehicle access roads and building activities, as contamination by lime or cement may cause staining.
Packs are supplied with timber collars at 2m centres. A crane beam is available for hire if site access and conditions demand it. Full packs weigh 1-1.5 tonnes (max. weight 2 tonnes) and should always be positioned over a rafter to prevent damage to, or the collapse of, the purlin system. Remember also to determine that the non-tabbed leg is on the direction of lay before lifting the Tactray 90 onto the roof. Loads lengths up to 13.5m are supplied stacked, with 2 pieces side-by-side, and up to 20 pieces in a pack. Orders for packs containing less than 20 pieces may incur a surcharge. Around 1000m2 of Tactray 90 may be loaded onto a typical 12m trailer, assuming all lengths are equal and fill the trailer bed.
All site-cut edges should be treated with Galvafroid or similar cold-galvanising paint. Tactray 90 can be cut on-site with a nibbler or reciprocating saw and is easy to drill, although care should be taken to prevent swarf or cut edges posing an accident threat.
**on no account should disc cutters be used to cut Tactray 90.
Tactray 90
Tactray 90 tile and slate support system is a structural metal lining tray system that replaces timber rafters, facilitation a traditional tiled or slated roof. As the system is lightweight with inherent structural strength, Tactray 90 provides good spanning performance for a variety of roof coverings from fibre-cement slates to heavy stone slates.
The distinctive 'U' shape of Tactray 90 is rolled to provide underlapping and overlapping legs. The underlapping leg includes a factory-applied vapour control gasket to limit the passage of moisture vapour at the side laps. As each tray is positioned, the underlapping leg is firmly located by a small tab pressed into the overlapping upstand. This helps to ensure a flush alignment to the underside of the trays.
Using the Tactray 90 system does not affect the practice of slating or tiling because the installation of underlay, battens and tiles remain identical and the completed roof shows no visible evidence of its use. The system offers significant reductions in completion times and reduced fire risk. Furthermore, the underside of the tray can be used as an internal finish to the roof, eliminating the need for suspended ceilings. A galvanised underside is standard, but an optional white internal finish is available and other colours may be possible according to quantity.
Filler
A low-density polyethylene filler (supplied by Britmet) is laid at the ridge, eaves, hips and valleys, prior to fixing Tactray 90. Alternatively, a gun applied mastic may be used in place of the polyethylene foam filler.
Counter-battens
50x50mm counter-battens are secured to the top of the tray upstands at 600mm centres using self-drilling fixings which must penetrate both thicknesses of steel in order to ensure adequate pull-out strength. Secondary 50x25 or 38mm counter-battens are nailed at approximately 300mm centres
Insulation
TacMat insulation is laid un the tray pans. Tacboard PIR insulation laid at right angles to tray span and fixed to tops of counter battens and metal support bars. Tacboard is available in various thicknesses to achieve a range of U-values. Insulation is available from Britmet.
Underlay
Breather membrane with a maximum vapour resistivity of 0.25 mN/s/g is available from Britmet.
Flashings
The complete range of flashings is available from Britmet in a white or galvanised finish, all flashings are made to order from drawings, submitted by the contractor to suit the dimensions of each project.
Fixings
All fixings to suit Tactray 90 are available from Britmet.
Tactray 90 Installer Guide
Tactray 90 Technical Drawings
Ref
Description
Files

---

TF_TT90_100
Standard System Construction - Non Air Permeable Finish - U025
DWG | PDF
TF_TT90_101
Standard System Construction - Non Air Permeable Finish - U020
DWG | PDF
TF_TT90_102
Standard System Construction - Non Air Permeable Finish - U018
DWG | PDF
TF_TT90_103
Standard System Construction - Non Air Permeable Finish - U016
DWG | PDF
TF_TT90_200
Acoustic System Construction - Non Air Permeable Finish - U025
DWG | PDF
TF_TT90_201
Acoustic System Construction - Non Air Permeable Finish - U020
DWG | PDF
TF_TT90_202
Acoustic System Construction - Non Air Permeable Finish - U018
DWG | PDF
TF_TT90_203
Acoustic System Construction - Non Air Permeable Finish - U016
DWG | PDF
TF_TT90_501
Typical Ridge & Eaves Details
DWG | PDF
TF_TT90_502
Typical Hip and Hip Valley Details
DWG | PDF
TF_TT90_503
Typical Verge Details
DWG | PDF
TF_TT90_550
Typical Compartment Wall Interface
DWG | PDF